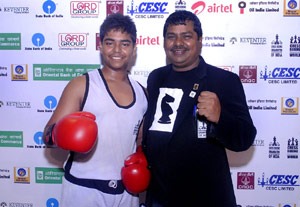 CBOI Founder Montu Das opened the Kolkata Chess Boxing Club Kolkata with a demonstration fight in the Bakul Math park in front of 1,500 spectators on 27th of November. It was the very first Chess Boxing fight on Indian soil.
The winner of the fight between Subhas Nashkar from Kolkata and Soumen Pramanik from Purba Midnapur was Nashkar: Checkmate in the 7th round.
Montu Das has been practicing Martial Arts for the last 23 years. He was Indian Karate Champion in 1995 and Kickboxing Champion in 1997. He has organised numerous kickboxing events all around his home country. He has now dedicated himself to promote Chess Boxing in India.
History
The hybrid sport was envisioned in 1992 by cartoonist Enki Bilal, and chess boxing was featured in his graphic novel Froid equateur. Iepe Rubingh brought the concept to life, fighting under the name Iepe the Joker. Rubingh felt the method described in the book, a boxing match followed by a chess match, was impractical. He instead decided on alternating rounds of chess and boxing.
A similar concept was featured in the 1991 Finish film Uuno Turhapuro-herra Helsingin herra, where the hero plays blindfold chess against one person using a hands-free telephone headset while boxing another person. It is not known if Bilal was aware of the move. There was also a 1979 movie by director Joseph Kuo called "Ninja Checkmate"; the English-dubbed USA version was known as the "Mystery of Chess Boxing". It does not feature chess boxing, but it is probably the inspiration for the Wu-Tang Clan song "Da Mystery of Chessboxing" on their first album Enter the Wu-Tang (36 chamber) (1993). Wu-Tang Clan producer RZA is a fan and advocate of the sport.
The earliest chessboxing reference occurs in London in 1978 when two brothers Stewart and James Robinson began chessboxing at the Samuel Montagu Boys Club. Iepe Rubingh was unaware of this before being shown the picture at the Berlin vs London press conference in June 2011.
The sport is governed by the World Chess Boxing Organisation (WCBO), whose strap line is "The smartest toughest (wo)man on the planet." The first world championship was held in Amsterdam in 2003 and was won by Iepe Rubingh. The First European Chess Boxing Championship took place in Berlin on October 1, 2005. Tihomir Atanassov Dovramadjiev of Bulgaria defeted Andreas "D" Schneider of Germany, who conceded in the seventh (Chess) round.
This fantastic sport of mind & physic, "CHESSBOXING" is introduce in India by renewed martial artists Mr. Montu Das as it's Fonder President of CBOI in the year of 2011.